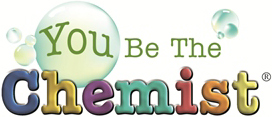 The Chemical Educational Foundation's You Be The Chemist® (YBTC) programs are designed to enhance K-8 science education by introducing the central role of chemistry in all the sciences and in our everyday lives. To accomplish its mission, CEF relies on the collaboration of industry, educators, and all members of a community to enhance science education among every generation, beginning with our youth.
CEF's current YBTC programs include:
You Be The Chemist Essential Elements
YBTC Essential Elements is designed to assist K–8 educators—our "essential elements" in education—in teaching chemistry concepts through hands-on learning and connecting those concepts to students' everyday lives. During an Essential Elements workshop, an instructor leads educators through a lesson from the YBTC Activity Guides. Following the lesson, educators will have the opportunity to discuss the lesson further and ask questions.
YBTC Activity Guides
The YBTC Activity Guides offer a variety of exciting science lesson plans that enable educators to bring hands-on learning to students inside and outside of the classroom. There are two activity guides: one for grades K–4 and the other for grades 5–8.
Together, the activity guides contain almost 1,000 pages of educator-reviewed experiments, activity sheets, supplements, a resource guide with safety information, and much more. The content of the guides aligns to the national framework established for the Next Generation Science Standards.
These guides can be downloaded free of charge or ordered in a flash drive format.
YBTC Challenge
The YBTC Challenge is a fun and interactive academic competition that engages grade 5–8 students in learning about important chemistry concepts, scientific discoveries, and laboratory safety. Challenge competitions are exciting events that take place across the country, encouraging the collaboration of industry members, schools, and community organizations, as together, they educate students about the value of science education and the role of chemistry in their everyday lives. The Challenge cycle culminates in the National Challenge in June, held in Philadelphia and organized by CEF.
This year, the North Central Indiana Regional You Be the Chemist competition will be held:
Saturday, March 7, 2015
Get Involved
It's never too early to get involved in You Be the Chemist! Whether you are a parent or an educator, you can help your child or your students learn chemistry and develop skills that will serve them for life.
To learn more, contact either of your local You Be the Chemist coordinators:
Dr. Marcia Gillette
Indiana University Kokomo
mgillett@iuk.edu
(765) 455-9369
Ann Ihms
Criterion Water Labs, LLC
water@criterionwaterlabs.com
(765) 438-4995